Experiments with Polarized Light at Slit and Double-Slit

Experiments at slit with varied polarized light show only at very narrow slit-widths and high diffraction-orders a noticeable influence. This is explained by Newton's demonstration of localization of bent light near the edge. The experiment by Fresnel is repeated where a double-slit with right and left circular polarized light in the single slits yields no interferences. This result was confirmed but with a polarizing-filter in front of the catch-up plane appeared the interference-figure of double-slit, whereat its fringes move by turning the filter. Therefore without polarizing-filter only a blurred figure is originated.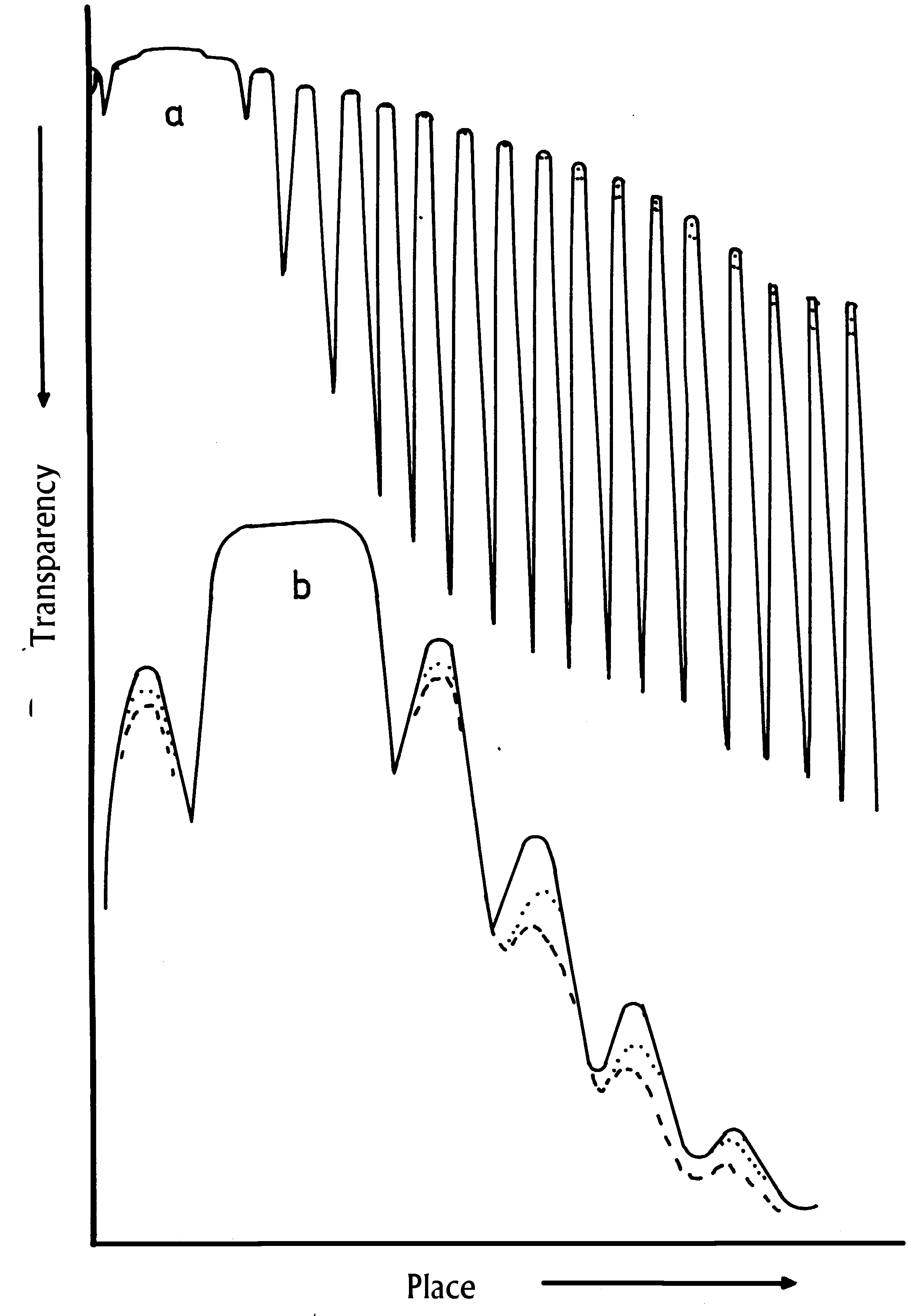 Figure 1. Examples for influence of polarization of light in diffraction at slit. The light of a Ne-He-laser HNA 50 passed a rotator and was focused on the illumination-slit 0.05 mm slit-width. The with an objective f' = 35 cm parallel directed light strikes the diffraction-slit.
a: 1 mm slit-width in 1 m distance,
b: 0.03 mm slit-width in 0.065 m distance.
Photometer-curves:
_______ E-Vector parallel to slit,
.............. 45° to slit,
- - - - - - perpendicular to slit.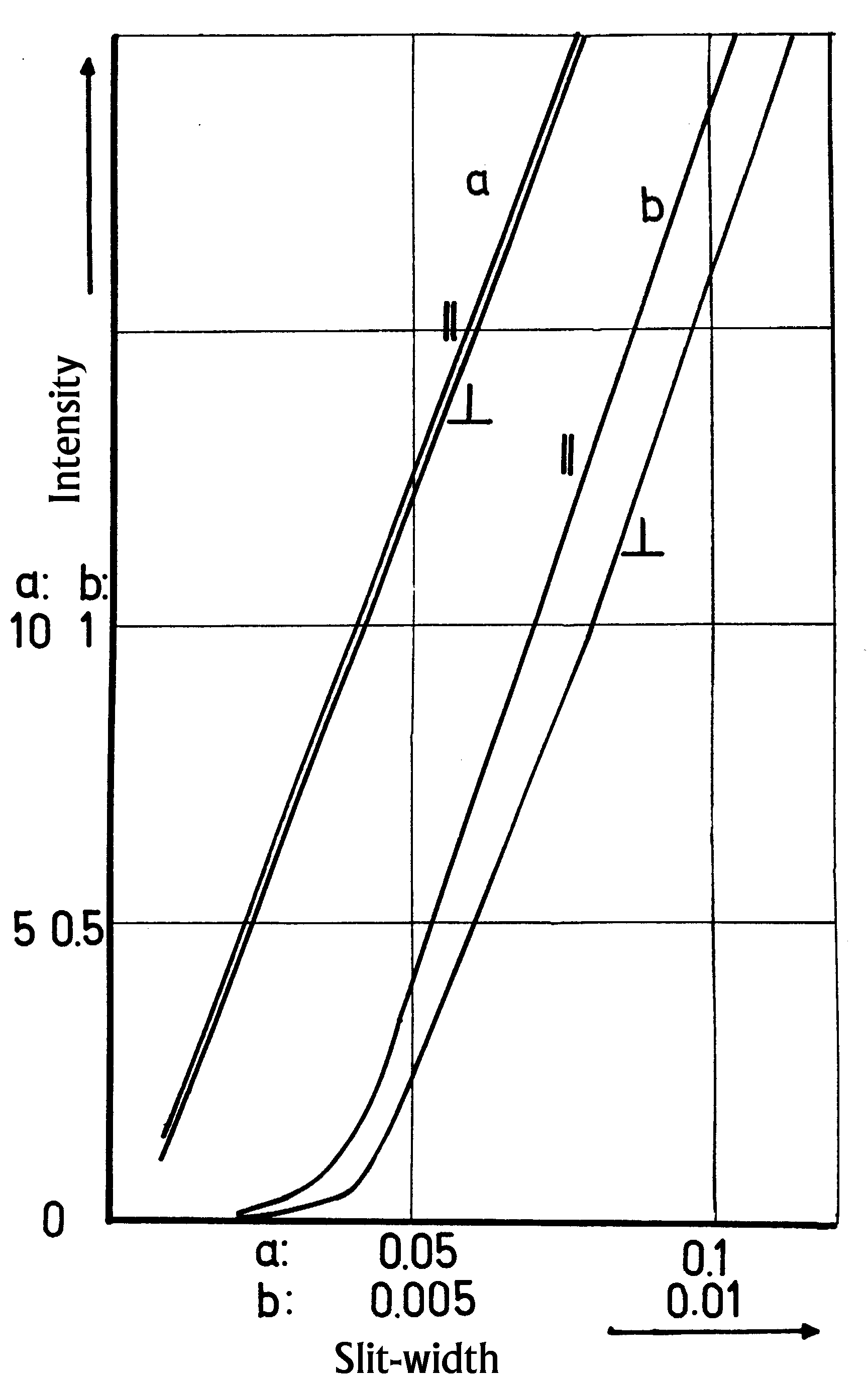 Figure 2. Relative intensity in dependence of direction of polarization of incident light from a He-Ne-laser through a slit of variable slit-width light. Abszissa: slit-width a: 0.0.. .mm and b: 0.00.. mm; Ordinate: Relative Intensity a: x 1 and b: x 0.1.
⁄ ⁄ parallel to slit,
⊥ E-Vector perpendicular to slit.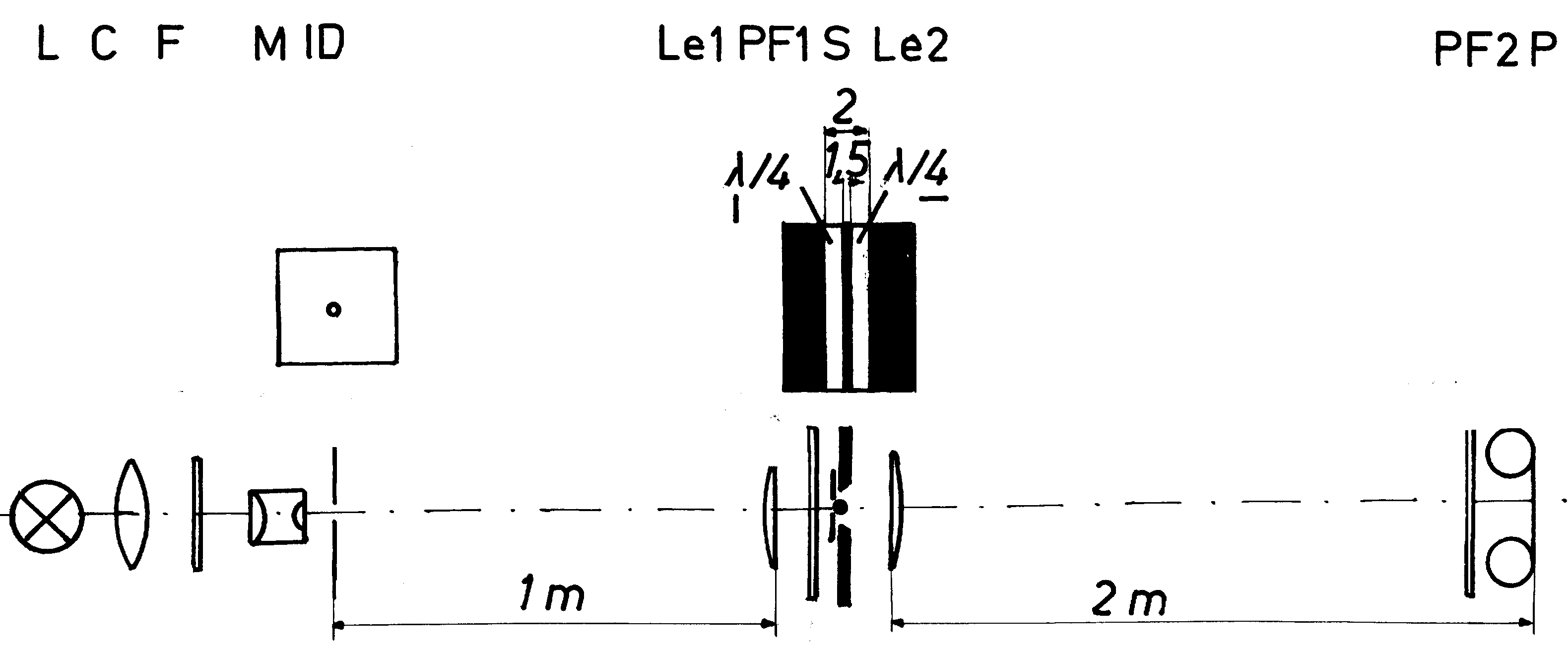 Figure 3. Experimental arrangement for examination of opposite circular polarized light with the double-slit. L - light-source, a mercury high-pressure lamp HBO 100; C - Condenser; F - green-filter; M -mikroscope-objektive; ID - illumentation circular-opening Ø 0.1 mm; Le 1 - lens f' = 1 m; PF 1 - polarization-filter Zeiss-Bernotar in 45°-position; DS - double-slit with 1.5 mm stick and ever one λ /4-plate of glimmer, where the direction of extinction in or 90° to the slits were cut; Le 2 - lens f' = 2 m; PF 2 - polarization-filter, rotating before the camera; P - camera-body of a single-lens reflex-miniature camera.
Figure 4. Diffraction-figures of the double-slit in dependence of the distance to slit. Breadth of middle-stick 1.5 mm, width of single-slits 0.375 mm. Illuminated with parallel mercury light with green-filter. Negatives are tree-fold enlarged. Distance: a: 25 mm, b: 125 mm, c = 275 mm, d = 720 mm..
Discussion

Newton [1] book III observation 5 had shown that bent light comes only out of a small surrounding of the edge. Nieke [12], [13] and [14] showed particulars to this fact, light comes out of a surrounding smaller than 0.1 mm of every edge, independent of slit-width. With it is explicable the constant difference independent of slit-width in figure 2: only on bent light exists an influence of direction of polarization, in the middle of the slit passing light is not influenced. Figure 1 show that bent light is not stricken equal but ever the order of bent light the stronger the influence of polarization. Newton [1] III, query 1 supposed that stronger bent light passed near the edge. The stronger influence of polarization can also be connected with it. The change of preference-direction by Bois a. Rubens [10] indicated in optical radiation for an influence of structure of photons and first in Hertz's radiation for a matter-interaction.
According to these results opposite circular polarized light shows only therefore not the diffraction-figure of double-slit because the single components of inter-direction of diffraction-fringes lay side by side and so no diffraction-figure is visible.
Moreover already Fresnel was known that about a plate of glass brought in a light-path of one slit shifts the diffraction-figure of the double-slit.

References

[1] I. Newton, Opticks, or a Treatise of the Reflexions, Refractions, Inflexions and Colors of Light. London 1704; Opera quae exstant omnis, Tom IV. London 1782; Optics, Reprint, Bruxells 1966; Optik II + III, Übers. W. Abendroth, Ostwald's Klassiker Nr. 97, Engelmann Leipzig 1898; Neuauflage Bd. 96/97 Vieweg, Braunschweig 1983; Optique, Trac. J. P. Marat, 1787, Bourgois Paris 1989.
[2] J. B. Biot, Traité de physique expérementale at mathématique. Paris 1816, Tome IV.
[3] A. Fresnel, Ann. chim. phys.(2) 28 (1822); Ann. Physik (II) 21 (1831) 276; Oeuvre complétes I. Paris 1866, S. 731.
[4] V. v. Lang, Sitzungsber. Wien. Akad. 60 (2) (1869) 767; Ann. Physik (II) 140 (1870) 460.
[5] Cornu, Comp. rend. 92 (1881) 1365.
[6] J. J. Thomson, Phil. Mag. (5) 11 (1881) 229; 28 (1889) 1.
[7] W. Wien, Ann. Physik (III) 46 (1886) 117.
[8] H. Hertz, Ann. Physik (III) 36 (1892) 775.
[9] H. du Bois, Ann. Physik (III) 46 (1892) 542.
[10] H. du Bois u. H. Rubens, Ann. Physik (IV) 35 (1911) 243.
[11] G. Wolfsohn, Handbuch der Physik, Bd. XX, S. 305, Springer, Berlin 1928.
[12] H. Nieke, Newtons Beugungsexperimente und ihre Weiterführung. Halle 1997, Comp. Print 1,Arbeit 1. Newton's Diffraction Experiments and their Continuation. Halle 1997,comp. print 3, paper 1.
[13] As [12], paper 2.
[14] As [12], paper 3.